Elementor acquires Strattic
Elementor acquires Strattic, the leading WordPress static hosting solution for secure, high-performance websites. This decision strengthens our ability to provide an end-to-end solution to millions of Web Creators by harnessing the power of static hosting technology and marks a significant milestone for Elementor.
Israeli company Elementor, the developer of a building platform for WordPress websites, has acquired Strattic, a web development and hosting solutions outfit based in Jerusalem, in an all-Israeli deal announced on Wednesday. Calcalist said the transaction was estimated at "several million dollars."
Founded in 2016 by Yoni Luksenberg and Ariel Klikstein, Elementor's open-source, drag-and-drop platform allows web creators to build code-free WordPress-based sites. The no-code website building concept is similar to what Israeli company Wix created — just for WordPress, the global leader in content management systems (CMS).
Strattic was founded in 2018 by Josh Lawrence and Miriam Schwab, a web developer with years of experience with WordPress sites, who set out to solve the "noise" around managing and securing WordPress sites.
Schwab has said WordPress was the best website and content management system out there but managing the life cycles of WordPress sites can be time-consuming and cumbersome, demanding solutions to issues of security, performance and reliability — challenges she experienced first-hand as a web developer.
Since its founding in 2018, Strattic has spearheaded static architecture to run stable and reliable websites, making downtime a relic of the past and allowing for seamless scale. Websites running on Strattic are renowned for their lightning-fast website speeds no matter where visitors are in the world, as it uses pre-rendered static pages that are fully served by a CDN.
With static hosting, users can deploy their dynamic WordPress websites as static HTML/CSS replicas to global CDN networks, which drastically improves the performance of their sites and eliminates potential security vulnerabilities and site breakdowns during updates. With a dramatically reduced attack surface, WordPress vulnerabilities become irrelevant as security is no longer a defensive endeavor.
I firmly believe that Strattic's technology, know-how, talent, and established market position as the leader of this technology in the WordPress space will allow us to offer the benefits of static hosting to the entire Elementor community and provide a platform for hosting ultra-performant large-scale websites — all in one place.
Elementor + Strattic = visions aligned
The value that Elementor brings to Web Creators aligns with our vision: removing the noise around managing WordPress so users can enjoy all the benefits that WordPress has to offer and focus purely on their work. With Elementor, that means Web Creators can easily build out new page layouts and designs and get content out there faster. With Strattic, developers and DevOps professionals can focus on their main responsibilities and stop worrying about the WordPress infrastructure of the company's website and all that entails.
Between our aligned visions, passion for WordPress, and shared histories, joining forces with Elementor feels like a match made in heaven. We are very excited to see what we can accomplish together on this next stage of our journey.
The Future of WordPress Is High-Performing, Ultra-Secure, and Hyper-Stable Websites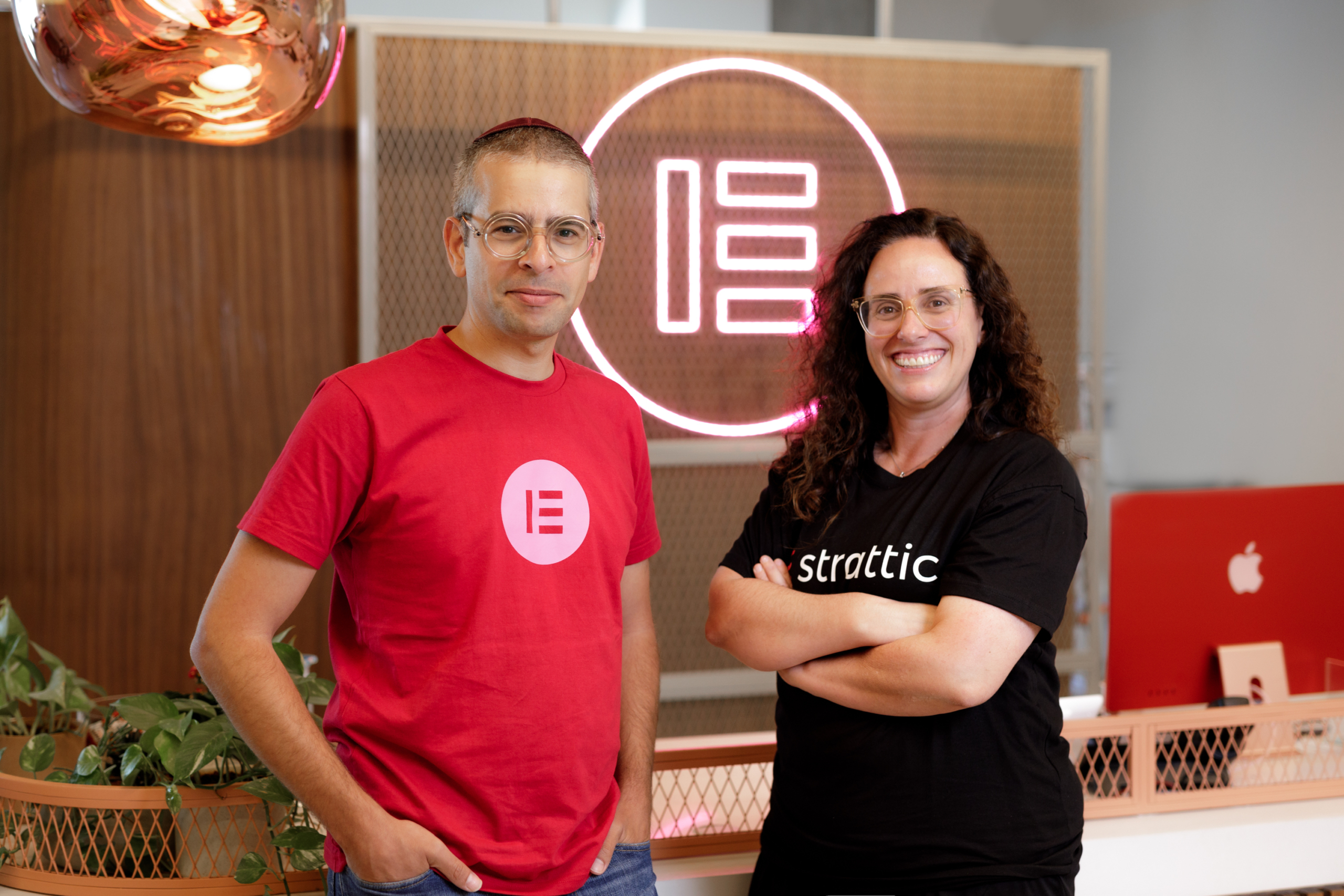 Elementor has pioneered website design and building standards as WordPress' fastest-growing web creation platform for the past six years, keeping in line with our founding vision of empowering web creators.
After years of powering millions of websites with our famous editor plugin, we remain committed to solidifying Elementor as the world's best editor, while breaking new ground in delivering innovative experiences in designing, developing, and building the web.
With Elementor now behind them, the Strattic team, led by Miriam and Josh, will work with us to bring the static experience to millions of WordPress and Elementor users. This milestone is another step towards our shared vision of building the perfect platform for web creators.
What does this mean going forward?
Strattic will continue to provide you with a fast, secure and scalable solution for your WordPress website, with a continued fanatical commitment to excellent customer support. At the same time, joining with Elementor means we will be able to provide you with even more innovation in the static WordPress space and bring our vision to millions of users.
Resources:
https://elementor.com/blog/elementor-acquires-strattic/
https://www.strattic.com/strattic-acquired-by-elementor/
https://www.calcalistech.com/ctechnews/article/bjdyl0t005
https://www.timesofisrael.com/wordpress-site-builder-elementor-buys-strattic-in-all-israeli-deal/
https://www.ashramtech.com/wp-content/uploads/2022/06/elementor_and_strattic-scaled.webp
1707
2560
Ashram Tech
https://ashramtech.com/wp-content/uploads/2020/05/ashramtech-logo-icon-e1595685534504.png
Ashram Tech
2022-06-11 15:59:11
2022-06-11 16:05:45
Elementor Acquires Strattic: New Era To Redefine WordPress Hosting